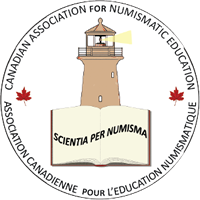 Canadian Association for Numismatic Education
Association canadienne pour education numismatique
Privacy Policy
Personal Information
Personal information like your name, address, phone number and e-mail address is obtained only when voluntarily submitted when you sign up as a member or place an order. Information that you supply will relate to the customer relationship that CAFNE / ACPEN has with you.
How We Use It
CAFNE / ACPEN will use your personal information to mail product to you and to request additional information to fulfill the order and payment process if necessary. We also use the information you supply to notify you about new products, member specials and important news concerning CAFNE / ACPEN.
How We Share It
We will not sell, rent or lease to others addresses, telephone numbers or e-mail addresses.
External Links
Links to third-party web sites from CAFNE / ACPEN are provided solely as a convenience to you. We do not assume responsibility for any of these sites, their content, or their privacy policies. CAFNE / ACPEN does not endorse or make any representations about them or any information, products or materials found there, or any results that may be obtained from using them. If you decide to access any of the third-party sites linked to the CAFNE / ACPEN site, you do so at your own risk.
Consent
CAFNE / ACPEN will use and share the personally identifiable information you provided to us in ways related to those described above. We reserve the right to disclose any and all pertinent customer information to law enforcement or other government officials as we, in our sole discretion, believe necessary or appropriate.
Our Commitment to Data Security
CAFNE / ACPEN is concerned about the security of your information. To prevent unauthorized access or disclosure, maintain data accuracy, and ensure the appropriate use of information, we have put in place reasonable physical, electronic, and managerial procedures to safeguard and secure the information we collect online. We use industry standard SSL encryption technology when collecting or transferring sensitive data.
Your Acceptance of These Terms
By using the CAFNE / ACPEN web site, you signify your assent to this Privacy Statement. If CAFNE / ACPEN updates or changes this Privacy Statement, the changes will be made on this page. Your continued use of this web site following the posting of changes to this Privacy Statement will mean you accept those changes
How to Contact Us
Should you have questions or concerns about this Privacy Statement, please contact us.
© 2023 CAFNE